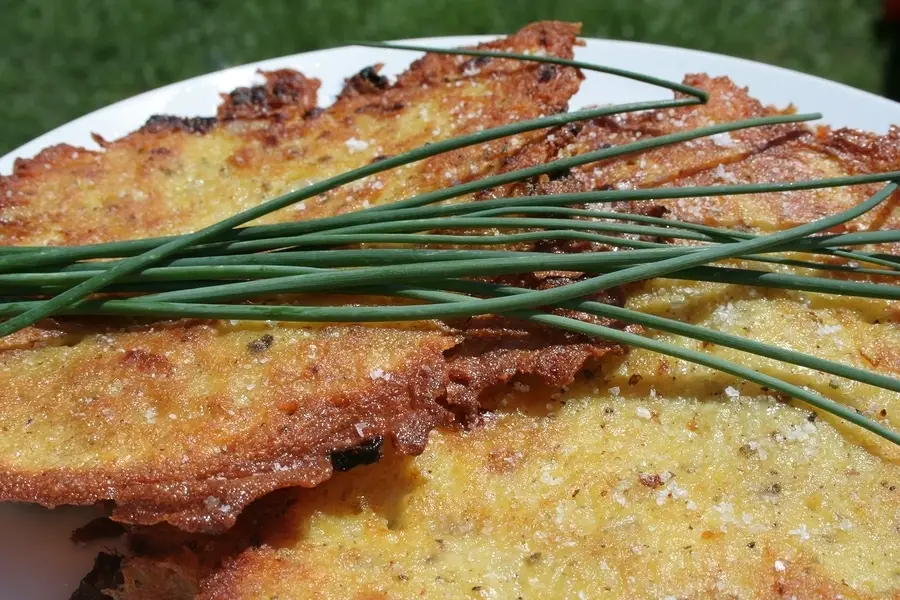 A quick and easy potato pancake recipe made from potatoes, onion, milk, and eggs. They are a savory dish that can be served as a side or the main course for brunch.
Serve them for breakfast or brunch with butter and maple syrup.
Another alternative is to serve these savory pancakes with applesauce dolloped on top or as a fruit side dish. This is especially good if the applesauce is homemade with a dash of cinnamon.
Potato pancakes make a hearty meal that will certainly cure any case of hunger for breakfast in the morning.
They can be eaten by themselves as the main course or served as a breakfast side dish with a slice of ham or scrambled eggs. The are a nice savory complement to some of the sweeter brunch items.
If you are concerned about them being too filling in comparison to the other items on your brunch menu, make them silver dollar size. That way everyone gets to try them, but won't get totally filled up on only this one item.
Find more recipes using potatoes like this potato pancake recipe here.
Easy Potato Pancake Recipe
Easy Potato Pancake Recipe
Author:
Laura Warnke - VintageCooking.com
Ingredients
3 cups peeled, diced raw potatoes
1 small onion, quartered
¼ cup milk
2 eggs
3 Tablespoons flour
1 teaspoon salt
¼ teaspoon baking powder
Instructions
Peel raw potatoes, rinse, and dice to about 1 inch square.
Peel a small onion and cut it into quarters.
Place all ingredients into a blender or food processor.
Blend until all of the potatoes go through the blades, about 10 seconds. (Do not over-blend as potatoes will liquify.)
Pour small amounts of the batter on a hot, greased griddle and fry until golden brown on both sides, turning once.
Serve warm with butter and maple syrup or applesauce.
Notes
This recipe makes about 7-8 pancakes.
Serves 4.