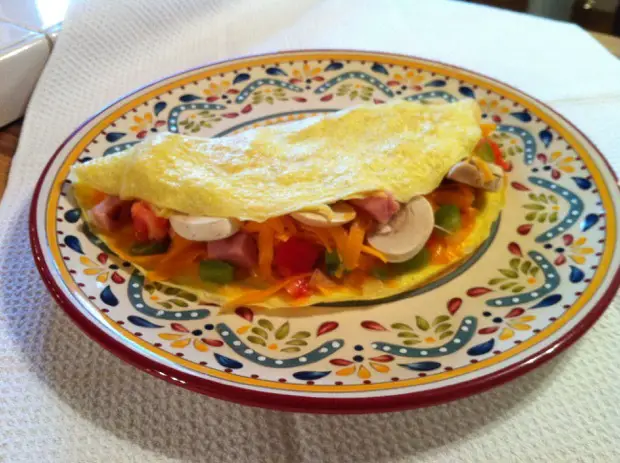 A hearty Denver omelet recipe made with eggs, ham, green pepper, mushrooms, tomato, and onion. Serve for breakfast or brunch with hash browns or fruit on the side.
Omelets make a hearty brunch all on their own or serve them for dinner as well. This recipe is also known as a Western or Southwest omelette.
This is a simple and delicious meal which uses ingredients that you generally have on hand.
Since each omelet is made separately, I recommend warming the plates so everyone can sit down together to eat at the same time.
You might also like this tuna and cheese omeletrecipe. It is packed with protein.
Check out my recommendation for a good quality omelet pan.
Hearty Denver Omelet Recipe
Hearty Denver Omelet
Author:
Laura Warnke - VintageCooking.com
Ingredients
½ small onion
½ medium green bell pepper
8 ounces ham, diced
6 ounces mushrooms, sliced
2 large tomatoes, diced
4 Tablespoons butter, divided
8 large eggs
Fresh ground black pepper to taste
4 Tablespoons water, divided
Salt to taste
8 ounces shredded cheddar cheese
Instructions
Dice the onion and green pepper into small ¼" chunks. Set aside on a plate.
Also dice the ham, mushrooms, and tomatoes into small ¼" chunks. Set aside in separate dishes.
Place 1 Tablespoon of butter into a 12" skillet and add the green pepper, onion and salt. Cook over medium to medium-high heat for 3 minutes until tender-crisp, stirring constantly. Back the heat off to medium-low, add the chopped ham and cook until the ham is heated through. Place in a bowl and cover with plastic wrap until ready to make the omelet.
Let the pan cool slightly and add 1 additional Tablespoon of butter and cook the mushrooms for a few minutes until heated through. Remove and place in another bowl and cover with plastic wrap.
Keep heat to medium. Add 2 additional Tablespoons of butter to the skillet. Let the pan come up to temperature so that it sizzles just a bit when you flick a few drops of water in it. Do not let the pan get too hot!
Crack 2 of the eggs into a small glass mixing bowl. Add in salt and pepper to taste with about 1 Tablespoon of water and whisk together.
Pour the 2 beaten eggs into the skillet. Cook without stirring until the eggs begin to set around the edges.
Using a spatula, lift one edge of the egg to let the runny uncooked egg run under the omelet. Make sure to keep the omelet from sticking by gently swirling the pan.
Before the omelette is fully set up and still slightly wet, spoon ¼ of the ham mixture onto half of the egg. Also place ¼ of each of the tomato, mushroom, and cheee on top of the ham.
Flip the omelette in half and sprinkle a bit of additional shredded cheese on top if desired. Heat for 30 seconds or just until the cheese starts to melt. Slide onto a heated plate.
Repeat steps 7-10 for the remaining omelets. Add additional butter as needed for each one to keep the eggs from sticking.
Notes
This omelet recipe makes 4 omelets each using 2 eggs. Check out my recommendation for a
good quality omelet pan.
Save
Save
Save
Save